Woven Geotextile Landscape Fabric | 50 Year Fabric | For Soil Stabilization & Underlayment for Driveway Pavers, Gravel Roads & Parking Lots | 6 ft, 12.5 ft, or 17.5 ft Wide
Stabilize Your Roads and Driveways With This Fabric
Prevent bumps and lumps in your roads when you use Sandbaggy 4 oz Woven Geotextile Fabric! Just install this geotextile fabric under gravel or aggregate to keep your roads and driveways nice and smooth. This fabric is great for stabilization, separation, and reinforcement applications, creating an effective layer between the aggregate and the soil.
It's the perfect driveway or road fabric to prevent fallout and potholes. We've made this fabric heavy duty to ensure it will not tear. It has a tensile strength of 200 lbs and is puncture resistant up to 700 lbs. This is a long lasting fabric made to last up to 50+ years (if buried properly with at least 3 inches of gravel or mulch).
How Sandbaggy Woven Geotextile Beats The Competition
Checkout just what makes this Sandbaggy product the perfect geotextile fabric for driveway underlayment or road construction. This fabric is compliant with NTPEP and AASHTO standards and meets Class 1 requirements for Woven Geotextiles.
What Happens When A 7000 lb Forklift Drives Directly on Sandbaggy Fabric?
Our 4 oz thick geotextile fabric is extremely heavy duty. It makes a great road or driveway fabric, when installed under gravel or any other kind of aggregate above the subgrade.
---
Features

STOP HAVING BUMPY & UNSTABLE ROADS - Add Sandbaggy Woven Geotextile fabric as an underlayment underneath gravel and your road will be stabilized. No more bumpy roads from now on!
BUILT TOUGH - Made with Industrial Grade 4 oz Woven Polypropylene, this Sandbaggy Fabric is the toughest in its class and is rated for 200 lbs of tensile strength. This is TWO TIMES thicker than standard fabrics.
50 YEAR FABRIC - The fabric is engineered to last 50+ yrs (*depends on site conditions) if buried properly with at least 3 inches of gravel or mulch. However, if the fabric is exposed to the Sun, the lifespan drops as low as 1 year.
TRUCKS & CARS CAN DRIVE ON FABRIC - This Sandbaggy fabric is built tough enough for vehicles to drive over it. Just add a couple of inches of gravel on top of the fabric and it's ready to be driven over!
SOIL STABILIZATION: Stabilize your soil with this fabric! Use it for both paved and unpaved roadways, as well as for other projects like retaining walls. Install it under mulch, gravel, or any other kind of aggregate.
SOIL SEPARATION: Made from woven polypropylene, this geotextile is able to create a separation barrier between the subgrade and aggregate.
GREAT FOR MANY APPLICATIONS - This Sandbaggy Fabric has so many uses such as Farming/Gardening, Landscaping, and Underlayment for Driveways, Pavers, Gravel Roads & Parking Lots.
WEED BARRIER: Also great for use as a weed barrier in a vegetable garden to control weeds
UV PROTECTED - Industry leading UV inhibitors are added to the fabric for prolonged life under the Sun
PALLET/TRUCKLOAD PRICING - Please contact us for bulk pallet pricing or truckload discount
Note: Rolls will be folded to fit within UPS size guidelines (4 ft wide or less). In addition, Rolls may arrive in 2 parts depending on the roll (for example: if you order a 100 feet roll, you may receive two-50 ft pieces).
---
Specs
Thickness: 4

oz

Material: polypropylene woven fabric
Meets

Class 1

requirements for Woven Geotextiles
Equivalent or exceeds fabric specifications from Tencate Mirafi 500X or Propex Geotex 200ST or Hanes Geo TerraTex GS
Roll Weight:

6 ft x 50 ft - 3 lbs




6 ft x 100 ft - 9 lbs




6 ft x 200 ft - 32 lbs




12.5 ft x 10 ft - 3.2 lbs




12.5 ft x 25 ft - 8 lbs




12.5 ft x 50 ft - 16 lbs




12.5 ft x 100 ft - 32 lbs




12.5 ft x 200 ft - 64 lbs




17.5 ft x 25 ft - 12 lb




17.5 ft x 50 ft - 23 lb




17.5 ft x 100 ft - 45 lb



Note: Rolls will be folded in half to fit within UPS size guidelines. In addition, Rolls may arrive in 2 parts depending on the roll (for example: if you order a 100 feet roll, you may receive two-50 ft pieces).
Fabric Variance:

Please note that fabric may have approx (

±) 3

% variance in size due to manufacturer's cutting machine
---
Fabric Lifespan - 50+ Years
As long as the fabric is buried with at least 3 inches of gravel, mulch, or under roads, and is away from any UV sun exposure, this fabric can last 50+ years.
---
Parking Lot / Road Construction
Sandbaggy woven fabric is great for stabilizing roads! Making sure your road avoids lumps and bumps.
---
Perfect Weed Barrier For Your Driveway

Keep your driveway looking sharp and beautiful! This is a great weed control fabric for driveways, since weeds will be unable to grow through the tightly woven polypropylene material.
---
Rip Rap Underlayment
Woven geotextile fabric is ideal for rip rap applications due to its key properties. It effectively separates different materials, ensuring the stability and proper distribution of rip rap stones. The fabric's filtration capabilities prevent the loss of underlying soils while providing reinforcement and durability to the structure, leading to enhanced long-term performance.
---
Case Study - Soil Stabilization in A South Texas Parking Lot
A customer in South Texas recently contacted us for help on a parking lot they owned. This parking lot needs stabilizing as it is currently filled with sand/dirt.

We recommended them to add a layer of Sandbaggy Woven Geotextile which will immediately stabilize the ground. Then, add 3-4 inches of gravel on top.

Having a layer of Geotextile fabric in between the gravel and dirt is extremely critical. Without this fabric layer, gravel will sink deeper and deeper into the dirt as cars drive on it. This means that you will need to add more gravel every year, costing approximately $1500 per truckload including labor for installation & material.

Do the job once! Not a hundred times! Use Sandbaggy Woven Geotextile!
---
In the Press

Sandbaggy has been written up by Fox, Daily Herald, MarketWatch and other news outlets for leading the industry
---
Customer Photos/Reviews

Sandbaggy Woven Geotextile For Soil Separation and Stabilization
Woven geotextile fabrics create a separation layer to prevent the gravel from sinking into the subgrade. Steve installed our woven geotextile fabric under gravel to stabilize the ground for his new building.
Place Sandbaggy Fabric Under Gravel For Backyard Projects
See our woven geotextile fabric in action! Homestead How used our fabric under gravel for their backyard project.

Use Woven Geotextile as an Underlayment For Their Driveway
Use our fabric as driveway underlayment to prevent lumps and bumps from forming in your driveway.
---
FAQ
What is driveway fabric called?
Driveway fabric is also known as a geotextile fabric, road fabric, soil stabilization fabric, or gravel underlayment. These different terms are used interchangeably for the same product.
Is driveway fabric necessary?
Yes, Driveway Fabrics help ensure the longevity and life of your driveway since they help stabilize the soil, as well as separate the soil from the aggregate. This results in less maintenance for your driveway. Without the Driveway Fabric, you will need to add more gravel to your road/driveway every year, costing you hundreds to thousands of dollars per year.
What's the difference between landscape fabric and geotextile fabric?
Geotextile fabric is a type of landscape fabric used to stabilize the soil. The type of landscape fabric used will depend on your project needs.
Woven vs non-woven geotextile?
The difference between woven and non-woven geotextile fabric is their permeability. Non-woven geotextiles allow water to pass through, while woven geotextiles do not.
What is the difference between the types of rolls you sell?
Roll type


Jute netting


Coir Mat


Black landscape fabric


Orange landscape fabric

Burlap fabric
Material
Jute
Coconut fiber
Polypropylene woven fabric
Burlap
Length
225 ft
165 ft
300, 500 ft
100, 300, 500 ft
300 ft
Width
4 ft
4 ft
3 ft
3 ft
3.33 or 6 ft
Coverage
900 sq. ft
1,070 sq. ft
900 or 1,500 sq. ft
300 - 1,500 sq. ft
1,000 or 1,800 sq. ft
Price/sqft (1,000 sq. ft)
$0.17
$0.30
$0.08
$0.09
$0.15
Purpose

Stabilize soil

Control erosion

Beach / shoreline erosion
(Water submersion)

Hillside erosion

Weed barrier

Silt fence

Weed barrier

Silt fence

Table / aisle runner

Floor mats

Tree / shrub protection

Life
1-2 years
2-5 years




9 months - 10 yrs (depending on Sun exposure)




9 months - 10 yrs (depending on Sun exposure)

N/A
Anchored using
6-inch sod staples
N/A
Biodegradable?
Yes
Yes
No
No
Yes
---
Our Customers
Our sandbags, burlap bags, and landscape staples are trusted by
Marine Corps
US Army
Park Service
Forest Service
Red Cross
Walmart
---
We Also Recommend
---
Customer Reviews
Write a Review
Ask a Question
04/16/2023
Sandbaggy is QUALITY
Amazing product! My 13 yr old son helped install it. It was fast, easy and effective! I used 4 oz woven fabric with their standard landscape pins and everything is WAY better quality than what you could buy in the big box stores.
Jennifer C.
United States
01/31/2023
Fabric Garden and Fabric Garden Stapples
We bought Fabric Gardens and Fabric Garden Staples to landscape our yard. They work great and the prices are reasonable. We strongly recommended these products. However, It took a while to wait for the products due to slow shipping. If the company can improve shipping part, it will be excellent.
Stephen B.
United States
04/19/2022
Outstanding Choice for my Backyard Project!
Completely satisfied with the product. This landscape fabric is the real thing - and the perfect choice for underpayment for gravel. My contractors were very impressed with the quality of the fabric as they were laying it down on the ground of my 3000 sqft backyard. I am confident that this will last through many seasons!
Cecilia V.
United States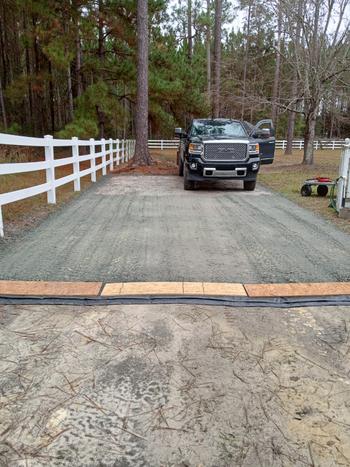 01/05/2022
Works great, reasonable prices
Overall happy with the product. Lays out well, and looks like it will hold up well. During the course of the project, drove over the fabric with my truck and trailer multiple times, no damage what so ever. This is heavy duty material,will buy again.
John E.
United States
09/11/2023
I recommend this product
quick and easy
ordered online and it came. Just what I wanted
Darin S.
United States