6-inch Round Top Landscape Garden Sod Staples (For PVC Pipes & Drip Tubing) - 11 Gauge
Regular price

$40.00

Sale price

$23.00

Save $17
---
---
WHY CUSTOMERS BOUGHT THIS
Hold Down Drip Tubing and PVC Pipes!
Sandbaggy
drip tubing stakes
have a round top designed to hold down piping like drip tubing. These round top staples prevent the tubing from moving around, securing it to the ground with maximum grip.
---
Specs
6" professional length
Material: 11-gauge steel

Size: 6 in. x 1 in. x 6 in.

Round Top
Features
For securing pipes, whether metal or plastic. They make the perfect pvc pipe stakes.

Holds down PVC pipes
Comparable to drip tubing stakes from Lowes, Home Depot, and Walmart.
Sub-packed for easy installation: Neatly sub-packed in plastic bags (50 staples/bag) - retail packaging not included as part of a strategy to reduce packaging waste
Heavy duty landscape staples sold in bulk

Multiple quantities: Drip stakes available in 200, 500, 1000 and more

Sharp chisel point: effortless application

The chisel point creates a sharp angle that makes the drip tubing stakes installation process faster and easier

Available in galvanized, rust-resistant coating

Galvanized staples last longer, resist rust, and can be reused


Commercial grade
30-day return policy
Free, Priority Mail shipping: arrives in 3 business days (10,000 staples or fewer), anywhere in USA

Shipments of 20,000 staples or more will take 1-3 weeks (pallet shipment)
---
Description
Commercial grade
These Sandbaggy 6" round top drip tubing staples are commercial grade staples that will help you get the job done, whether for backyard projects or large landscaping projects.
Many uses
These drip tubing stakes are designed for many uses, including securing drip irrigation, wireless fences, sprinkler pipes, and PVC pipes. Use them in:
vegetable gardens
plant containers
irrigation systems
Made with 11-gauge steel and sharp chisel points, these drip irrigation stakes will make applying the staples to the ground that much easier.
Great for securing landscape fabric
Sandbaggy staples are great for securing landscape fabric, bird netting, artificial turf, and drip irrigation.
To secure landscape fabric, weed barrier fabric, landscape cloth, or dog, landscaping, turf, and electric fences, we recommend square top sod staples.
---
Customer Video
#1:
Why Iowa Farmer LOVES Sandbaggy Landscape Staples.. Hint: They Hold Fabric in 50 MPH Winds
Sandbaggy staples are extremely heavy duty, able to hold down landscape fabric in 50 mph winds with no problem.
---
FAQ
What's the difference between round top and square top sod staples?
Square top
Square top staples have a flat top.
Square top staples are typically used for securing landscape fabric, weed barrier fabric, dog fences & electric fences, controlling weed, securing synthetic turf, and holding sod.
Round top
Round top staples are rounded (curved) at the top.
Round top staples are typically used to hold down irrigation pipes and PVC pipes.
What gauge and size of landscape staples (sod staples) should I buy?
Gauge
The lower the gauge number, the thicker and stronger the metal.
With compact soil, use landscape staples with a lower gauge, i.e. 8 gauge, so that the staples don't snap while hammering them into the ground.
With normal or looser soil, use landscape staples with a higher gauge, e.g. 11 gauge.
11-gauge staples are suitable for most applications.
Size
Longer staples work better in looser soils.
The added length ensures that the landscape staple will not move after installation.
For most soils, 6" x 1" x 6" staples will work.
For looser soils, use longer staples, such as 9" x 1" x 9" or 12" x 1" x 12" staples.
Will these staples rust?
The short answer is yes.
With normal use, the staples will definitely rust, as they are not galvanized.
However, rust is good because it strengthens the staples' holding power and makes it more difficult to pull out.
Also, when steel rusts, it forms a protective coating preventing further rusting.
Rust does not affect the strength of the wire in any way and is purely cosmetic.
These staples are usually installed once and never touched again, so rust is not a problem.
If you decide to reuse the staples, be sure to use a pair of gloves when pulling up the staples to prevent your hands from getting dirty.
Why not sell a galvanized version of these staples?
Galvanized staples are considerably more expensive and unnecessary unless the staples need to be reused and the original appearance of the staple must be preserved.
For one-time use applications, such as installing landscape fabric or drip tubing, non-galvanized staples such as these will do the job just as well.
Non-galvanized staples can even be reused when rusted; just make sure to wear a pair of gloves when handling them to keep your hands clean.
We do offer one version of galvanized staples: 1-inch width, 6-inch length, round top.
Will these staples fit over a 1/2-inch PVC pipe?
The staples are 1" wide, which should be enough space to fit over the 1/2-inch PVC pipe.
As staples are 6" long, 5" of the staple should be in the ground.
This is enough to anchor the pipe so long as the soil isn't too loose.
For PVC pipes, we recommend round top staples, as the rounded top fits better over the pipe than a square top.
I only need a few pins. Why should I buy these over the 25 or 50-packs at local stores?
These pins are a fraction of the cost of those at local stores.
You can pin down vines, grasses, and small roots after planting, so they stay in place until the roots establish.
You don't have to worry about dropping or losing a pin because the cost per pin is so minimal.
What is the difference between all the different types of landscape staples you sell?
Length
Width
Gauge (lower = thicker)
Ideal soil type
Best use
Top
Galvanized?

Standard
(most popular)
6-inch
1-inch
11 gauge
Normal
Landscape fabric
Square
Available

Round Top
6-inch
1-inch
11 gauge
Normal
Install pipes
Round
Available

9-Gauge
6-inch
1-inch
9 gauge
Hard
Strong, heavy duty
Square

2-inch wide
6 or 8-inch
2-inch
9 or 8 gauge
Hard
2X wider
Square

Available


9-inch
9-inch
1-inch
11 gauge
Soft
Soft soil
Square

Available


12-inch
12-inch
1-inch
8 gauge
Soft
Long, heavy duty
Round

Available


Galvanized
6-inch
1-inch
9 gauge
Normal
Rust-resistant
Round
Yes

Pink
6-inch
1-inch
11 gauge
Normal
Stands out
Square

Circle Top
6-inch
1-inch
8 gauge
Normal
Fast installation
Circle
Yes

Drip Tubing
5-inch
0.5-inch
14 gauge
Normal
Drip tubing (irrigation)
Round
Yes

Rubber Mallet
The easiest way to install landscape staples. Period.
---
Installation
Tips
Depending on how hard your soil is, separate each sod staple between 1-5 ft. For very soft soil, separate each staple by 1 ft. For very hard soil, separate each staple by 5 ft.
For very soft soil, we recommend longer sod staples, such as 9-inch sod staples.
For very hard soil, we recommend

thicker sod staples, such as

6" galvanized 9-gauge round top staples.
Tools required for landscape staples installation:
Rubber Mallet or Hammer
Gloves
---
Video
Learn how to insert Sandbaggy Landscape staples and stakes into the ground!
---
Our Customers
Our sandbags, burlap bags, and landscape staples are trusted by
Marine Corps
US Army
Park Service
Forest Service
Red Cross
Walmart
---
We Also Recommend
---
Customer Reviews
Write a Review
Ask a Question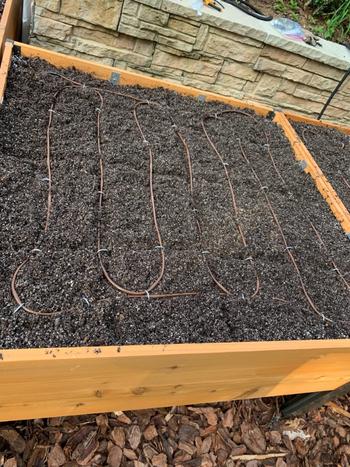 10/17/2021
Great Gardens Staples
Great product easy to use strong and long lasting
Andrew G.
United States
06/20/2023
Excellent Product and Service
The six inch delta pled were exactly what I wanted. They came very quickly by normal mail.
John C.
United States
05/16/2023
Excellent Product! Heavy metal stay in place!
Heavy metal material keeps these staples in place. I needed these to anchor lots of soaker hoses in my irrigation system for a long private hedge planted to block out a new subdivision built next to my private road. Arrived fast and safe. Just what we needed to keep the soaker hoses in place!
Brenda T.
United States
07/26/2021
6 inch Garden rod staples
Experience was great! The ordering process was smooth and the staples came within a few days. We're using them to staple down our doggie fence. Perfect!
Sheryl u.
United States
06/23/2021
Great product, great service!
I just ordered garden staples, but they are the best, and the price was terrific.
Barbara A.
United States