17.5 ft Landscape Fabric For Weed Barrier, Ground Cover, Garden
Regular price

$150.00

Sale price

$75.00

Save $75
---
---
Product Introduction
Sandbaggy 4 oz landscape fabric rolls are a woven geotextile that's trusted by farmers and landscape contractors across this country. Manufactured with durable, polypropylene woven fabric, Sandbaggy heavy duty landscape fabric meets or exceeds DOT standards for landscaping fabric.
We ensure that this fabric has at least 200 lbs of tensile strength, as well as UV inhibitors to ensure longevity after installation. Fabric is very easy to install.
All you need to do is lay out the fabric and use Sandbaggy landscape staples to hold the fabric in place. Planting trees and plants is easy as well. Just cut the fabric with a pair of scissors and place the plant through the fabric, and you're done.
Use our landscape fabric for so many applications:
road stabilization
rip rap
retaining walls
erosion protection
landscaping
Weed Barrier
Sandbaggy Woven Geotextile Is 30% Thicker Than The Competition
Sandbaggy woven geotextile fabric is an extra thick landscape fabric made from tough polypropylene. Our 4 oz fabric is 30% thicker than most fabrics sold on the market.
What Happens When A 7000 lb Forklift Drives Directly on Sandbaggy Fabric?
---
Specs
Width: 17.5 feet (fabric will be folded to 4 ft for easy shipping)
Thickness: 4 oz or 200 lb of tensile strength
Material: Woven Polypropylene
Color: Black
Dimensions:

17.5 ft x 15 ft (262.5 square ft)
17.5 ft x 25 ft (437.5 square ft)
17.5 ft x 50 ft (875 square ft)
17.5 ft x 100 ft (1,750 square ft)
---
Features
EXTRA WIDE 17.5 FT FABRIC - This extra wide 17.5 ft woven polypropylene landscape fabric makes landscaping & gardening FASTER & EASIER than small 3 or 4 ft wide rolls! Instead of putting down 6 rolls of 3 ft fabric, just put down 1 - 17.5 ft wide roll! Save labor by choosing Sandbaggy 17.5 ft Fabric!
BUILT TOUGH

- Made with Industrial Grade 4oz Woven Polypropylene, this Sandbaggy Fabric is the toughest in its class and is rated for 200 lbs of tensile strength. This is TWO TIMES thicker than standard fabrics.

SAME, STRONG MATERIAL AS FLOOD CONTROL SANDBAGS: The durability of polypropylene woven fabric has been tested in severe flooding across this country and has stood the test of time. The same material that protects cities from being inundated with floodwaters is also used to produce Sandbaggy's commercial grade landscape fabric.
WEED BARRIER FABRIC: Using thick 4 oz fabric tightly woven by industrial grade looms, it makes it much more difficult for weeds to puncture through the fabric. Another side benefit with black landscape fabric is that it helps prevent weeds from growing by blocking out the sunlight weeds need to grow.
KEEP SOIL IN PLACE FOR EROSION CONTROL: Weed barrier keeps your soil in place and prevents it from being eroded away during a rainstorm. Great for use under mulch or in a greenhouse. Sandbaggy Fabric is trusted by farmers across this country from reforestation farmers in Kooskia, Idaho on the West Coast to bamboo farmers in Lithia Florida on the East Coast
LAB TESTED & INSPECTED: Sandbaggy inspects and lab tests landscape fabric to ensure fabric meets tough quality standards using strict ASTM standards. This means that you can rest assured that you are ONLY getting the best fabric! Sandbaggy Landscape Fabric is trusted by landscapers and farmers across this great country!
SAFE FOR ORGANIC FARMING: All Sandbaggy fabric is safe for organic farming

Note: Rolls may be folded for shipping to fit within UPS size guidelines. Rolls may arrive in 2 parts (ie if you order a 100 feet roll, you may receive two-50 ft pieces).
Secured to the ground using 6-inch landscape staples
30-day return policy
Free shipping: arrives in 4 business days (5 rolls or fewer), anywhere in continental USA

Shipments of 10 rolls or more will take 1-3 weeks (pallet shipment)
---
Heavy Duty - Our Fabric Lifespan is 50+ Years
Engineered to last 50+ Years! As long as the fabric is buried with at least 3 inches of gravel, mulch, or under roads, and away from UV sun exposure, this woven landscape fabric can last 50+ years. However, if the fabric is exposed to the Sun, the lifespan drops as low as one year.
---
The Perfect Greenhouse Flooring Solution
Sandbaggy Ultra Wide Landscape Fabric is the ideal solution for greenhouse flooring. This heavy duty industrial grade fabric is built to handle heavy foot traffic as well as provide a firm walkway for your workers. Install Sandbaggy Fabric surrounding the greenhouse to create pathways - mud free!
---
Stop Weeds On Your Driveway

Keep your driveway looking sharp and beautiful with Sandbaggy Woven Geotextile! Stop weeds in their tracks!
---
Description
Heat Sealed Edges
A common problem with landscape fabric is that the edges fray. The edges of Sandbaggy 17.5 foot wide landscape fabric are heat sealed to prevent the fabric from fraying.
Landscape Fabric Installation
Tips for installing 17.5' wide landscape fabric
Depending on how hard your soil is, separate each 6-inch sod staple between 2-4 ft. For very soft soil, separate each staple by 2 ft. For very hard soil, separate each staple by 4 ft.
For very soft soil, we recommend longer sod staples, such as 9-inch sod staples.
For very hard soil, we recommend thicker sod staples, such as 6" x 2" x 6" 9-gauge staples.
Tools required for landscape staples installation:
Comparison with Competition
UV Protection: added to fabric
Made from 100% virgin resin: provides additional strength compared with recycled resin
Laboratory tested: to meet ASTM tests
Pre-shipment inspection: fabric inspected for irregularities and breakages before shipment
Results on ASTM Test
Every batch of fabric is lab tested to ensure consistency and quality throughout the fabric roll.
Test results
UV Protection: ASTM D4355 - at least 80% strength after 500 hours
Tensile Strength: ASTDM D4632 - 200 lbs
Meets Class 1 requirements for Woven Geotextiles
Tough Woven Polypropylene
Our woven polypropylene landscape fabrics are extremely strong with a tensile strength of 200 lbs! This makes them ideal for placing under rocks or gravel. Because this fabric is woven, it makes it extremely difficult for weeds to grow through the fabric.
Woven landscape fabrics are ideal for applications such as weed control, soil separation, and soil stabilization. They are not permeable, so if you need something for filtration or drainage we recommend using non woven landscape fabric.
---
---
Far more staples are required in soft soil than hard soil to properly anchor the landscape fabric in place.
To be precise, in soft soil, install one staple every 1 foot. In normal soil, install one staple every 3 feet. In hard soil, install one staple every 5 feet.
Landscape fabric
The calculator assumes that landscape fabric is being used to cover every square foot of the plot of land.
When rolling out landscape fabric, it's ideal to overlap the edges of the landscape fabric about 12%, so that weeds cannot grow in between the edges of the fabric.
Landscape fabric should not be stretched straight over a dip in the ground.
Rather, the fabric should be touching the ground at all times and should adjust to the contours of the land, such as bumps, dips, and hills.
This allows you to walk on the installed landscape fabric without worrying about damaging it.
---
Customer Videos

Place Sandbaggy Landscape Fabric Under Gravel For Backyard Projects
See our landscaping fabric in action! Homestead How used our heavy duty landscape fabric under gravel for their backyard project.
Protect Against Weeds and Install Landscape Fabric Under Mulch
This customer installed Sandbaggy landscape fabric under mulch to prevent weeds from growing in their field.
Used For Vegetable Garden
Place landscape fabric on top of soil or mulch and allow your vegetable garden to flourish without the presence of weeds. Just cut holes in the fabric for your plants, which allows them to get ample water and sunlight and simultaneously block the sunlight for potential weeds.
Using Sandbaggy Weed Barrier Fabric on Oregon Farm
This customer purchased landscape fabric to use as a weed barrier on their farm.
---
FAQ
Is geotextile fabric the same as landscape fabric?
Typically yes. Geotextile simply means strong synthetic fabric which landscape fabrics are. However, some projects require special geotextile fabric with unique specifications such as a specific tensile strength. If you are not sure, simply email us and we can help.
Can you put landscape fabric over existing weeds or on top of weeds?
Yes, you can place landscape fabric over existing weeds or on top of weeds
What is the difference between the types of rolls you sell?
Roll type


Jute netting


Coir Mat


Black landscape fabric


Orange landscape fabric

Burlap fabric
Material
Jute
Coconut fiber
Polypropylene woven fabric
Burlap
Length
225 ft
165 ft
300, 500 ft
100, 300, 500 ft
300 ft
Width
4 ft
4 ft
3 ft
3 ft
3.33 or 6 ft
Coverage
900 sq. ft
1,070 sq. ft
900 or 1,500 sq. ft
300 - 1,500 sq. ft
1,000 or 1,800 sq. ft
Price/sqft (1,000 sq. ft)
$0.17
$0.30
$0.08
$0.09
$0.15
Purpose

Stabilize soil

Control erosion

Beach / shoreline erosion
(Water submersion)

Hillside erosion

Weed barrier

Silt fence

Weed barrier

Silt fence

Table / aisle runner

Floor mats

Tree / shrub protection

Life
1-2 years
2-5 years

12 months - 40 yrs (depending on Sun exposure)

12 months - 40 yrs (depending on Sun exposure)

N/A
Anchored using
6-inch sod staples
N/A
Biodegradable?
Yes
Yes
No
No
Yes
---
Our Customers
Our sandbags, burlap bags, and landscape staples are trusted by
Marine Corps
US Army
Park Service
Forest Service
Red Cross
Walmart
---
We Also Recommend
---
Customer Reviews
Write a Review
Ask a Question
04/16/2023
Sandbaggy is QUALITY
Amazing product! My 13 yr old son helped install it. It was fast, easy and effective! I used 4 oz woven fabric with their standard landscape pins and everything is WAY better quality than what you could buy in the big box stores.
Jennifer C.
United States
01/31/2023
Fabric Garden and Fabric Garden Stapples
We bought Fabric Gardens and Fabric Garden Staples to landscape our yard. They work great and the prices are reasonable. We strongly recommended these products. However, It took a while to wait for the products due to slow shipping. If the company can improve shipping part, it will be excellent.
Stephen B.
United States
04/19/2022
Outstanding Choice for my Backyard Project!
Completely satisfied with the product. This landscape fabric is the real thing - and the perfect choice for underpayment for gravel. My contractors were very impressed with the quality of the fabric as they were laying it down on the ground of my 3000 sqft backyard. I am confident that this will last through many seasons!
Cecilia V.
United States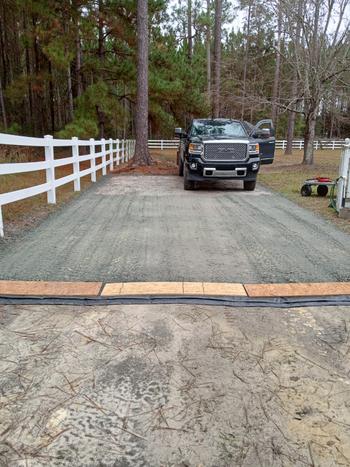 01/05/2022
Works great, reasonable prices
Overall happy with the product. Lays out well, and looks like it will hold up well. During the course of the project, drove over the fabric with my truck and trailer multiple times, no damage what so ever. This is heavy duty material,will buy again.
John E.
United States
10/09/2023
I recommend this product
Missing Items - Zero Customer Service
When my contractors opened these items the staples were missing so they could not proceed with work. My entire project was at a stand still while I tried to reach sandybaggy who does not have a telephone number. Days after expending several hundred dollars to improvise the staples I order from Sandybaggy but never received I finally got an unhelpful reply from Sandybaggy.
Greg S.
United States